L'Oreal USA Federal Credit Union


---
To learn more about our Premier Banking
click here!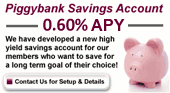 or see our Printable Forms page for more details.
---
Holiday Schedule
The following days the
Credit Union will be closed:
January 1, 2014
January 20, 2014
February 17, 2014
May 26, 2014
July 3, 2014
July 4, 2014
September 1, 2014
September 2, 2014
November 27, 2014
November 28, 2014
December 24, 2014
December 25, 2014
December 26, 2014

1.99% New Car Rates Still Available!

Did you know that not only does the Credit Union finance your dream car, but we also offer extended warranties, GAP insurance and help you find the perfect car at the best price! You can apply today on our website under the LOAN Tab, fax us your application (732-574-9148), or call and we'll take your application over the phone. Secure applications are also available on our iPhone & Android applications.

Even if your credit is less than perfect, our rates beat other lenders and we're able to match unsubsidized rates!

In addition, to the above great rates your Credit Union can provide you with the following services:

Free Checking with no minimums, maintenance fees or checking account fees.
Free Apps & Online Bill Pay- is your life on the go? Now the Credit Union can be with you wherever your life takes you. With our secure mobile sites and applications stay connected with your account 24/7!
Overdraft Protection- budgets not balanced? Protect yourself with an overdraft line of credit. If you don't have enough in your checking, the line is used so there are no more bounced checks or NSF fees!

---



The Credit Union is now working with Sallie Mae, a leader in student loan lending, to bring you more lending options for your education. Click here to learn more.

---

Do you have an idea you would like to share?
Try our suggestion box!