L'Oreal USA Federal Credit Union



---
To learn more about our Premier Banking
click here!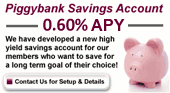 or see our Printable Forms page for more details.
---
Holiday Schedule
The following days the
Credit Union will be closed:
January 1, 2014
January 20, 2014
February 17, 2014
May 26, 2014
July 3, 2014
July 4, 2014
September 1, 2014
September 2, 2014
November 27, 2014
November 28, 2014
December 24, 2014
December 25, 2014
December 26, 2014

55,000 Surcharge Free ATMs
Now Available to all our Members!




| | |
| --- | --- |
| | Your Credit Union recently joined the Allpoint Surcharge Free ATM network offering over 55,000 Surcharge Free ATMs. You can find the Allpoint Surcharge Free ATMs nearest to you where ever you are by using your smartphone L'Oreal USA FCU App or via the Allpoint app both of which you can download from the Apple store or Google Play. We now have more surcharge free ATMs than any financial institutions conveniently located at 7 Elevens, CVS, Dunkin Donuts, Costco and many other stores. |

---

Skip A Loan Payment


With Summer around the corner, we've decided to reinvent our Skip-A-Payment Program. Now Skip a loan payment twice a year!** The L'Oreal USA Federal Credit Union is always looking for ways to make our member's lives easier. You told us you wanted more options with the Skip-A-Payment Program and we listened! Take advantage of the program in June, July or August, and again in the Winter! Have more than one loan with the Credit Union? If you're current on your loan payments you can skip them all.

*If you already have a Holiday or Vacation Loan it must be paid off before qualifying for a Vacation Loan.
**exclusions may apply




---



The Credit Union is now working with Sallie Mae, a leader in student loan lending, to bring you more lending options for your education. Click here to learn more.

---

Do you have an idea you would like to share?
Try our suggestion box!