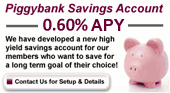 or see our Printable Forms page for more details.
---
Holiday Schedule
The following days the
Credit Union will be closed:
January 1, 2013
January 21, 2013
February 18, 2013
May 28, 2013
July 4, 2013
July 5, 2013
September 2, 2013
November 28, 2013
November 29, 2013
December 24, 2013
December 25, 2013
December 31, 2013

5%* APR Holiday Loan Special
Members with a loan and account in good standing are ALREADY QUALIFIED*!
November 1st to January 1st, 2014.
Beginning November 1st the Saks Fifth Ave Federal Credit Union
is having a 5%* APR LOAN SALE!
Members with a current loan and accounts in good standing
automatically Qualify for our Holiday Loan Special!
Now get $2500 for 12 months!
*exclusions may apply. Please call or visit the credit union for details. 212-940-5230.
You can apply on your smartphone, our website www.sakscreditunion.com or over the phone.
5% APR promotional rate requires good credit history and premier account status.
One holiday loan per member.


Exciting Changes

Dear Valued Member,

Your Credit Union is experiencing a lot of changes you may have noticed that:

You may have a new account Number!
Free Online Bill Pay
*New* Premier Banking
Free Debit MasterCard
Free Savings- with Interest!
Free Checking with no minimums or maintenance fees
Free Online Banking
Free Mobile Banking
New MoneyDesktop Application- for budgeting and more.
Loan Applications and more directly on our website
Free checks for Premier Members

Fun Facts:

We're now open 9-5 Monday-Friday!
Coming soon: Mobile Apps!
We now accept Cash Deposits




Pay my credit card bill HERE

Do you have an idea you would like to share?
Try our suggestion box!